What is La Ruta de las Casas Típicas?
La Ruta de las Casas Típicas ("Route of rustic houses") is a touristic circuit whose main objective is to exhibit and preserve the local architectural and cultural heritage of communities in the Dominican Republic.
The first route was created in Las Galeras, Samaná in 2022 and shall be duplicated in other parts of the country where economic developement endangers the local identity and cultural heritage. So if you ask what to do in Las Galeras, this is another option among many in the Samaná peninsula.
Promoting and encouraging local sustainable tourism
This project shall benefit and help locals maintaining their former family house for posterity as well as they get to live in more modern houses.
La Ruta de las Casas Típicas consists of a route of about 28 miles (45 kilometers) starting at the "last typical house" on the main street of Las Galeras that will take you to the famous and beautiful Playa Rincón where you will propably take a pause for a delicious local lunch and enjoy fresh "El Caño frío" river before swimming in the beautiful turquoise waters of the eastern side of this 3 miles long beach.
The tour can be done in your own private vehicle, or in a small group, aboard an authentic Galerense "guagua" (traditional pick-up public transportation).
La Ruta de las Casas Típicas has about 40 participating houses visible from the street (or a few steps from the street).
They are identified with their sign, you can photograph them and sometimes visit them, with the agreement of their owners.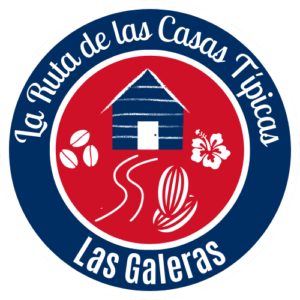 Most houses are simple family houses. Some are offering snacks and drinks, local fruits and vegetables local souvenirs or handcrafted products, food or small grocery. This will be a good opportunity to find out about the smile and kindness of the Dominicans. You can even enjoy a unique experience of sleeping and living with a local family!
Identify the houses along the Route by their wooden signs made by local artisans.
How and why was La Ruta de las Casas Típicas created?
Find out more about La Ruta de las Casas Típicas
What is the itinerary of the Route of the Typical Houses?
Click here to see our interactive map of La Ruta de las Casas Típicas.
You can also purchase a paper version that you can keep as a souvenir at the "House #1" of the Route and/or download a digital free copy here.
The whole tour takes about 1/2 day (3 to 4 hours including a few stops for photos or buying snacks or souvenirs), but we recommend the complete day tour, which will give you about 3 hours to fully enjoy Playa Rincón. There, you will be able to have a delicious typical lunch, swim in the fresh waters of "Cano Frío" river, and enjoy the quiet turquoise waters of the eastern part of the beach.
How do I go through La Ruta de las Casas Tipicas?
You can do the tour in your private vehicle, or aboard an authentic local bus with a local guide who will provide with lots of information about the history of Las Galeras and its typical houses. A beautiful journey where you fully enjoy the scenery without having to focus on the road!
How to contact La Ruta de las Casas Típicas?
Would you like to support this project or get further information ?
Use the contact form here
Follow La Ruta de las Casas Típicas on Instagram
Participate in voting for your favourite house during the annual contest!
Support this project
Special thanks to our sponsors and private donators