A picturesque and cultural excursion to do alone or in a group
Go in a small group -up to 10 people- aboard an authentic local "guagua" (public transportation) to the sound of some of the best Dominican bachatas!
Book this tour with your friends, your family, your partner or alone; you will spend an unforgettable day in the magnificient landscapes of the Samaná peninsula.
Along the journey aboard the typical guagua, a local guide from Las Galeras will tell you about the history of the village and about the way of life of the locals.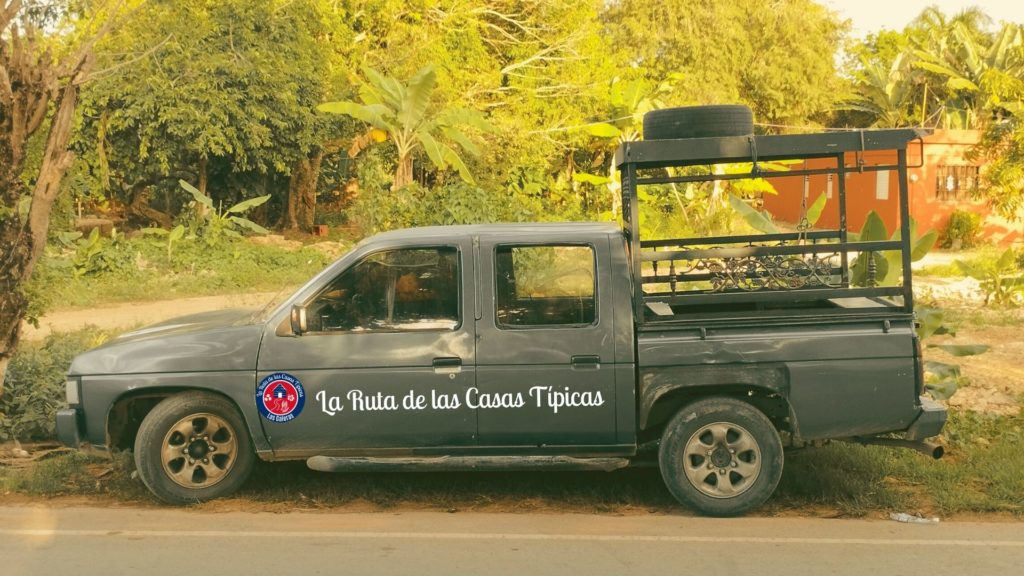 Full day Tour
Departure at 10:00 am from the main street in front of the oldest tipical house of main street. The route lasts approximately 5 hours. It includes a typical lunch at one of the participating houses where ou will be able to share some time with locals. If time allows, we will make a stop at Playa Rincón with time to enjoy this stunning beach before we get back on the road to see more houses.
During the tour you will be able to see the rustic houses at a leisurely pace and you will have around 5 photo stops (the stops change depending on the days of week in order to benefit all locals).
You can take advantage of the visit to buy local specialties or local handicrafts such as coconut bread, coffee and cocoa, clothes and objects made from coconuts, calabashes and "iron wood"… among others.
The guide will tell you about the history of Las Galeras and its surroundings, and you can listen to some of the most famous bachatas.
During our stop at Playa Rincón, you will be able to enjoy the beautiful river "Caño Frío".
On the way back, you can make 3 more stops, to arrive in the center of Las Galeras around 3 p.m. and enjoy the late afternoon.
FEES
Full excursion fee (with lunch included)
2 500 dominican pesos per adult, 2 000 pesos for children under 15 years old
*The typical bus tour is not recommended for children under 6 years old.
Option with a professional photographer
A professional photographer may accompany your group to take the best photos along the route. The which will be delivered to you (in digital format) at the end of the visit. On request.
In addition to a beautiful memory, you will now have beautiful photos ready to be shared on your social networks with your friends and family!
What to bring?
Sunscreen, hat, sunglasses, bathing suit, towel, cash for personal expenses (local stores don't usually accept credit cards).